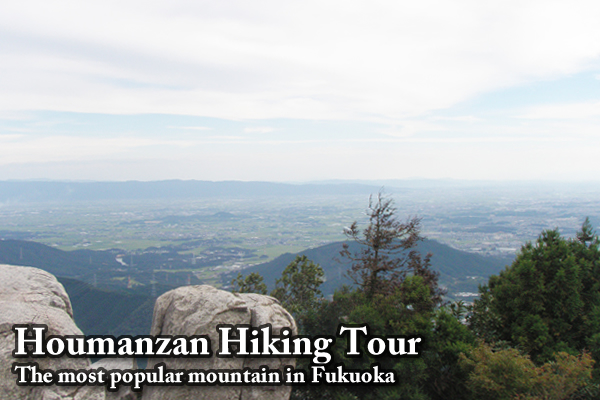 The attraction of Houmanzan hiking route
This hiking route is said to be the most popular in Fukuoka due to breathtaking view from the summit, convenient location and well-maintained path, and mysterious atmosphere with religious sites.

*This tour is recognized as the Fukutabi tour program organized by Fukuoka city government.
1.Date/Time:

(1) Date:
* To be arranged at your request
* Subject to guide availability

*In case of rain, the tour will be canceled.

(2) Time: 7:40 am to around 12:30 pm (4hours and 50 minutes)
The hike will take about 4 hours. However the time required varies depending on physical strength of participants.

A vertical drop is about 600m, the total of walking distance is about 6 km, accordingly a physical strength is required to some degree.


2.Meeting Place:
(1) Meeting time: 7:40 am

(2) Meeting place: Outside the main gate at Nishitetu Dazaifu Station
Nishitetsu express train leaves Fukuoka Tenjin Station at 7:11am and arrive Futsukaichi station at 7:29am.
You need to change train at Futsukaichi Station. Dazaifu-bound train leaves at 7:35am and arrives at Nishitetu Dazaifu Station at 7:40am.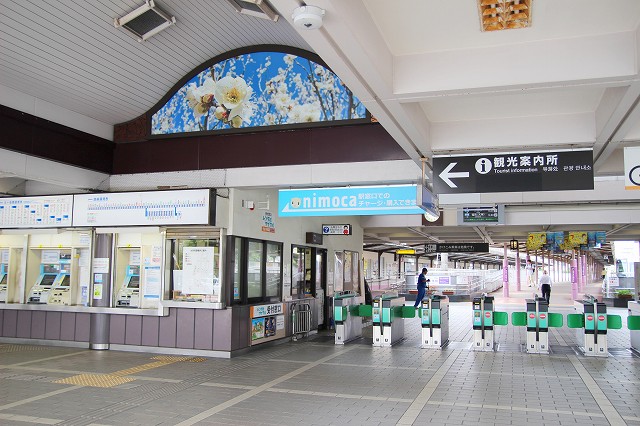 View
Meeting place: Nishitetu Dazaifu station
in a larger map
3.Fee:
7,000 Yen per one person
Including English speaking tour guide fee, some sweets and tea, insurance and tax.
The bus fare (round trip: JPY 200) does not include.
Payment:
*Please pay the fee by PayPal in advance.
We will send you the invoice via PayPal, then the tour will be confirmed after your payment.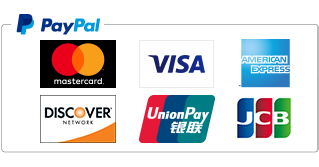 4.Model Course:
Houmanzan Hiking Tour
7:40 am / Nishitetu Dazaifu Station
8:10 am / Kamado Shrine
10:40 am / Mt.Homanzan
12:20 pm / Kamado Shrine
12:30 pm / Nishitetu Dazaifu Station

*To be arranged at your request.
*Vertical drop: about 600m
*Total of walking distance: about 6 km
*In case of rain, the tour will be canceled.
*Community bus is available from Dazaifu station to Kamado Shrine.The bus leaves Nishitetu Dazaifu Station at 8:02 am and arrives at Kamado Shrine at 8:10 am. The bus fare (round trip: JPY 200) does not include.
*Tsukushinoyu(Hot spring facility) is located near Kamado shrine. Participants wishing to bath can enjoy taking a hot spring bath. Fee is 500 yen.


5.Hiking Tour Guide:
Hiking Tour Guide is nationally licensed English speaking guide, experienced and quite familiar with Fukuoka city.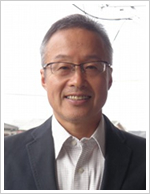 Takaya / English speaking guide

I have been living in Dazaifu City for about 20 years, where Mt. Houmanzan is located. Since I began to go up to mountains when I was in high school, I have been enjoying mountaineering and other outdoor activities. Accordingly I am familiar with neighboring mountains including Mt. Houmanzan. The mountain used to be the mecca of mountain asceticism until early Meiji period. There are a lot of religious sites in it. I would like to introduce not only breathtaking view and excellent natural environment but religious ruins which would create unique atmosphere and enhance an attraction of the mountain in this hiking tour.

6.Application:
Advance reservation is required for the tour.
Interested participants should fill out and send the booking form. We look forward to hearing from you!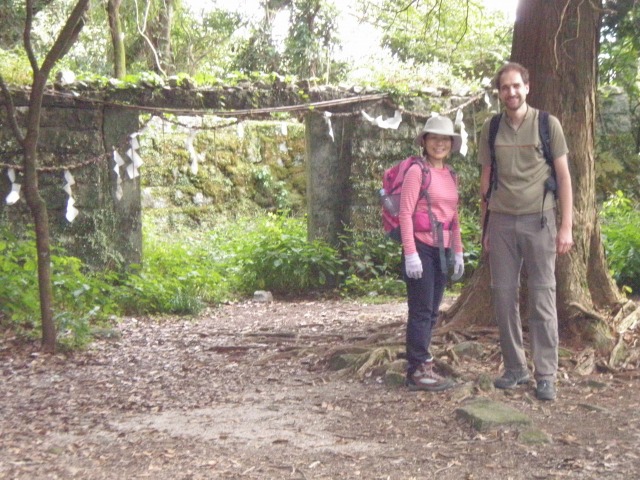 Convenient location and well-maintained path
Nishitetsu train and community bus is available to approach starting point of this hiking course. It takes only 8 minutes from Nishitetsu Dazaifu station to Kamado Shrine. The route is quite clear and well-maintained.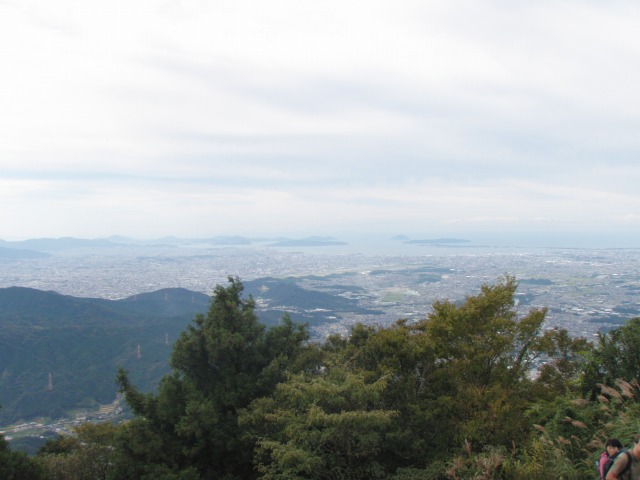 Breathtaking view
We can enjoy astonishing view from the summit of the mountain. When it is fine, we can see Fukuoka city, islands in Hakata bay, mountains around area and the Chikugo plains.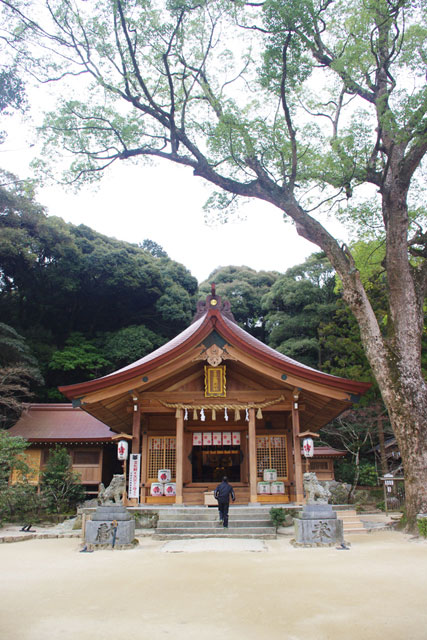 Mysterious atmosphere
The mountain prospered since ancient time as a sanctuary of mountaineering asceticism. There are a lot of historic and religious sites and huge rocks. The area is filled with mysterious atmosphere.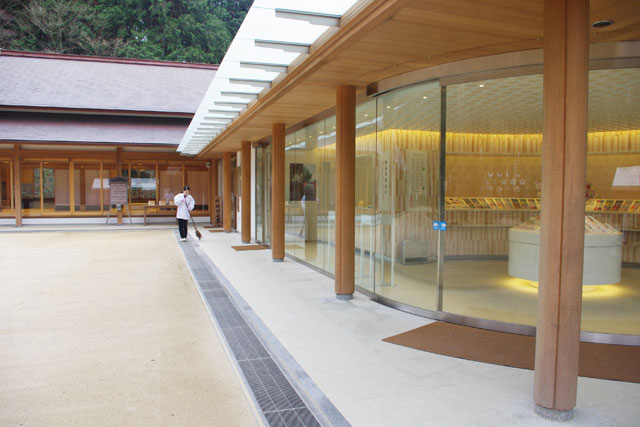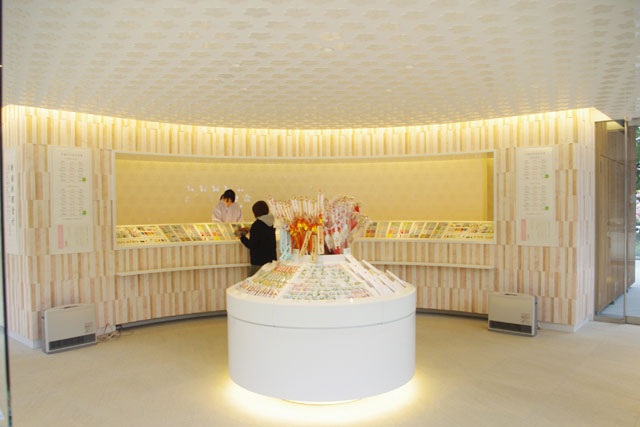 Kamado Shrine
Kamado Shrine which is located at the foot of the mountain is well-known for divine favor for matchmaking.