What is your pump-up food? Everybody has struggled every day and every moment, and we need something that raises us up. Because we are fighting!!
Someone could seek relief for alcohol, sports, or doing something especial. To cheer up myself, CURRY is the best as for me. I admit some people specify the Japanese curry is not the curry. I also categorise it as Japanese Mom Curry. The rock shape of potatoes and carrots, meats were cooked with big pot. The Japanese curry paste cubes can play precious role in that pot. The Japanese curry paste cubes (we can see them at the supermarket.) control everything in the pot.
Off course I love Mom curry. But my booster is not Mom's.
The curry that I would like to recommend today is far from that the so-called Japanese way. The restaurant name is HYDER, Bangladesh curry restaurant. The restaurant locates at the quiet residential street near the Keyaki-street. HYDER is the owner's name. He can speak Japanese fluently and gives us polite and civil service. His restaurant is very neat and clean. And the mind of Mr. Hyder is though going to the utensils and the room itself. Their dishes are based on medicinal cooking. The rich taste and flavor come from more than 32 spices. They are HALAL certificated. This recipe was inherited from Mr. Hyder's mother who lives in Bangladesh.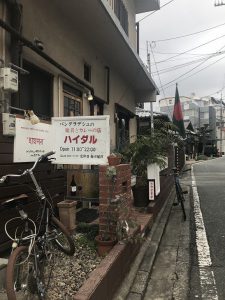 Notable news is that you can contribute to building hospitals and schools in Bangladesh by eating. Mr. Hyder has been working for this project since the restaurant has opened. He has already built a hospital in his hometown. Another building is under planning now. Once you can try, your body will need it in needs. Many guests come often. A man I happen to meet there told me that he comes every week in his lunch time. I can understand what he meant. Something in me often whisper me "I need Hyder…go Hyder….". Oh, I seem to be lack of something. It's the time to fulfill me with HYDER spices. And it's the time to fulfill the dream for unseen friends in Bangladesh.
Special spices stimulate my instinct!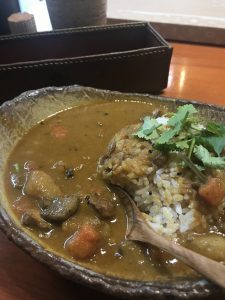 Cumin Seeds really do the job!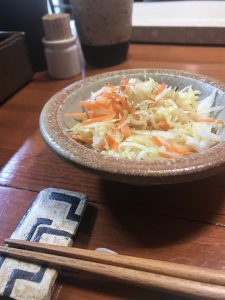 A cup of Chai tells me the end of the wonderful time….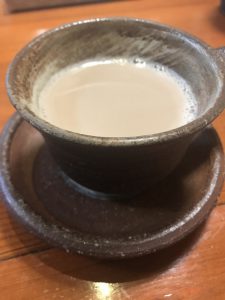 Information
Shop name: HYDER
URL:
http://hyder-curry.com/
Adress: 10-9-2 Kego Chuou-ward Fukuoka-City
At the just south side of Keyaki Streets.
They sometime hold special curry gathering for charity. Check t's Facebook.
If you are interested in our tours in Fukuoka, Kyushu, Japan, please feel free to contact us. We are really looking forward to discovering Fukuoka, Kyushu with you.
Fukuoka Walks
https://fukuokawalks.com/