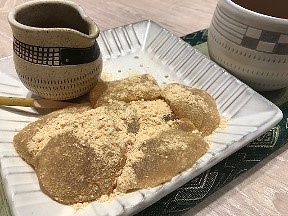 If you stay near Hakata station, I recommend you drop by this café. The café is located at a hotel in front of the Chikushi-guchi at Hakata station. The café is on the second floor. You can relax and enjoy the view of the busy street below from the window. The atmosphere and furniture in the café make it a cozy room. Furthermore, the dishes and drinks they serve are so good. They are light on your diet too. In the night time, they open as bar. I definitely will be a repeat customer.
Their original coffee was so delicious, it gave me a fresh atmosphere. This is Yomogimochi which is a steamed rice paste, mixed with a herb called yomogi. Yomogi is a perennial member of the Daisy family, native to Japan.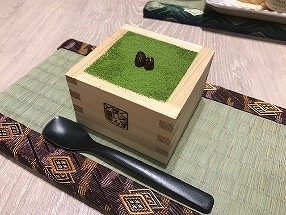 Mattcha sweets are full of Japanese spirit. They are served on plate or cup placed on a small tatami mat. The taste, needless to say, is so good. Other dishes are also attractive….
They really care very much about local foods and goods in Fukuoka and Kyushu area. I can easily recognize the names of local ingredients on their menu. And the tableware on which they serve are a famous ceramic product from Koishiwarayaki in Asakura, Fukuoka. It is a cozy room, made with human warm products. After arriving Fukuoka, or leaving,, if you have time, why don't you stop by?
Information
Café Bar CROSS POINT
https://oriental-hotels.com/fukuoka-hakatastation/crosspoint/
address: 2nd floor 4-23, Hakataeki Chuogai, Hakata-ward, Fukuoka-city, Fukuoka
ORIENTAL HOTEL FUKUOKA HAKATA STATION.Ltd.
They often hold interesting events concerned about Japanese for visitors at the lobby or café. Check their web site.
Fukuoka WALKS
https://fukuokawalks.com/